Visual Arts
Paintings
Photography
Sculpture
Performance
Events
Parties
Printing
Framing

Home
Derek Dantawong
Thailand's emerging artists

Dec 28, 2000
Derek "Kan" Kantawong is excited. I think he believes I'm a powerful art broaker and that I'll make him rich and famous. "Now we haven't sold a thing" I tell him. He calms down but only a bit. We're both still excited. He's getting a page on the ArtVanSF site and I'm getting to show the work of a very tallented artist.
Now I don't usually care much for the quaint pastels of most water-color work, but Kan is quite skilled and his portraits capture a lot of feeling.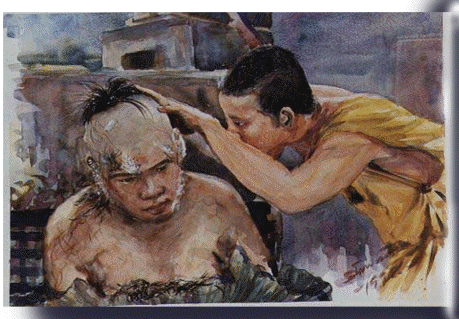 This is a young monk getting a shave.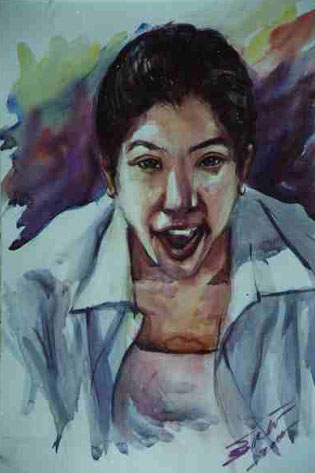 And this is his sister.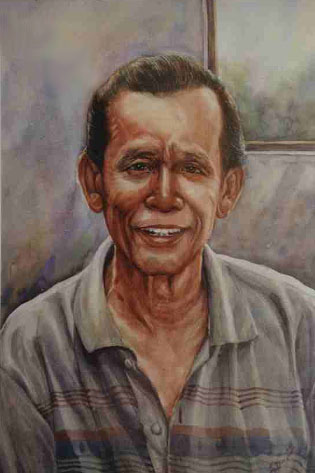 And this is his dad.
In addition to portraits, Kan has done a lot of series in architecture, nature, tribal life, beaches, oceans, boats, flowers, temples and some very nice abstracts. He didn't have all of my favorite pieces scanned already so the breadth of his work will have to come later. All in all, I took a gander at seventy five works and was impressed by all. He has a show coming up in Chang Mai this week.
Below is Derek's Artist statement:
---
Derek's art memo ---------------------------- I have started creating arts since I graduated from the Art college, up until now it is already 8 years. It's 8 years of travelling and adventure along Thailand rural countrysides. All great experience, photos and feelings I got from these places have been transfered into my water-colour paintings. It's the only art technique which I always admire and it definitely can express my unique characteristic and personality. Now I have more than 150 paintings which never been exposed or sold anywhere. Although they might not have much value in terms of liberal arts,...who cares!! I only know that they come from my entire spirit and soul which drives me to create my works of art until the end of my life.
---
In closing, I'll leave you with these pictures...