Vu Dong
I never got a chance to meet Vu Dong. As a matter of principal, I was trying to avoid showing the work of masters unless I had met them. But I am too moved.
Shown in a modest gallery called, Lam Kieu, Vu's work would normally go unnoticed by any collector, but I was fortunate to stumble across it. Vu's work is sold for $400 or more, so I can assume that the work is well known in Vietnam and well received. (that's a lot of money there)
Since this is part of the Hoi An experience, I'll begin with Vu's most Hoi An-like work. This is also the most representational piece here..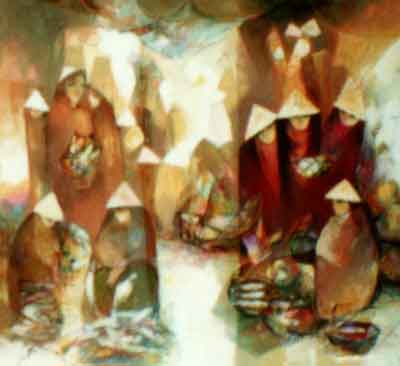 The cubist lines and impressionistic style captured my attention immediately.
But abstract is my love and Vu Dong is it's master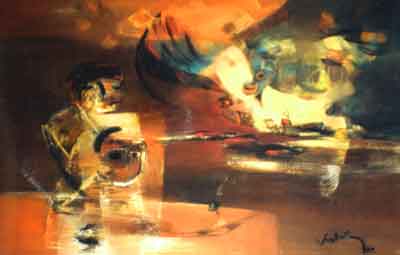 now, transitioning between sunset and dark...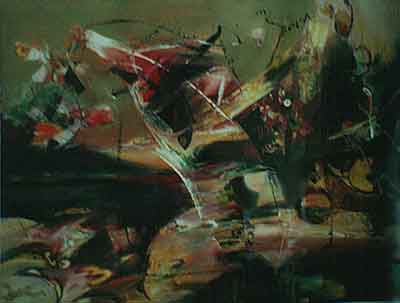 and then there was this piece that so-o-o-o moved me. Unfortunately it didn't come out well and this is the best my photoshop skills would do: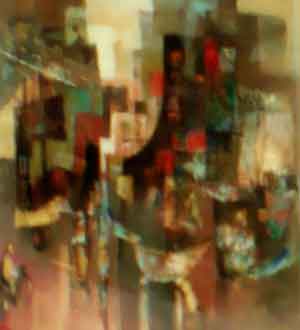 So this last one is a bit dissapointing? Simple, scroll back up.
Nothing more needs to be said about this work. You eaither love it or you don't. I love it.