Hoi Ann
Hoi Ann is the Carmel of the South East. It is a beautiful little, historic, quaint, artistic town on the coast with lots of tourists... but not as many as . If you are not accostomed to pushy salesmen, you may need some time to warm up to this place. However, we found the food, art and people of this town to be superb and invite you all to go an buy some art. (cause there's pleanty of it).
This is what the streets look like at night. Notice that every one of three shops is an art gallery. (every three of four is a tailor shop. we went to one and had such a good time getting clothes made. but that's another story). (and every two of seven is a resteraunt). (and then there are the wood carvers).
This was a particularly nice shop with a good selection of artists and trinkets. It's called Linh Hai Thanh Cong and the web site I was given no longer works so what you see here is what you get.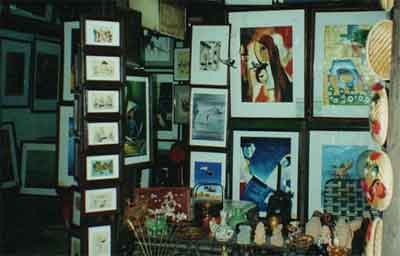 This fellow (below) was the very apex of the typical art in Hoi An. Looking at his charcoal portraits you can see his skill has been compramized for the tourists taste. The simple but colorful work behind him depict life in Hoi An.
Artist Nguyen Tan Hiep is 51 years old, has been painting for fourteen years and owns two shops that I reccomend for typical tourist artwork.
The work of Nguyen Dinh Thong of the Lam Kieu Gallery (below - actually that's the grandfather below, not the artist, anyway, the work is...) quite good and innovative. I hope to get some better scans soon.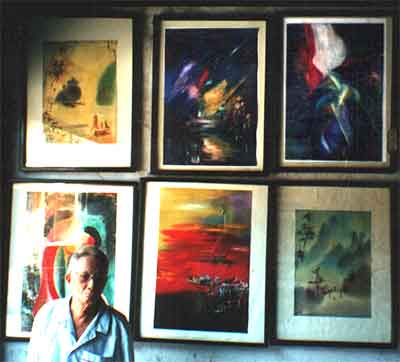 Also represented by the Lam Kieu Gallery was the work of Vu Dong, who is my most favorite painter of all time. I just love Vu's work. Please have a look at Vu's page.
Then I saw this gallery: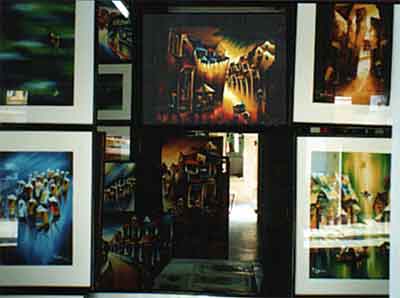 again, my photography sucks, but what am I to do now? Anyway, this is the work of Thanh of the Thanh Art Gallery. His vibrant work was similar to a lot of work coming out of the urban black movement of america. It also looks a little like black velvet art from here. But I assure you, it is not.
And finally, the work of Tuan Hiep, who I have chosen to represent the best of the typical Hoi An artist. As such, I've devoted his own page to him.