ndAg Studio
---
NEW !
Come see ndAg studio's first show, "Falling Star" June 3-31, 2001, Ubud, Bali.,
featuring the Pis Balong artist group.
---
Artists

I. Wayan Palasara
and
I. Wayan Teguh Wijaya
I met Wayan and Wayan at the Warsaw cafe where I met I. Nyoman Suarsa. I was on my way to find Sika gallery and they offered to give me a lift. We all checked out the art and talked to their friend, I. Wayan Sika. Then we left for their studio. It's not a terribly large place, nor is it on the main strip,, but the young artists have the energy and the talent to make it work. They are planning their first show with a group of artist freinds and from the work I've seen, it's going to be very good.
Unfortunately, my photography skills were living up to my formal training in the field, which is nill, and all but one of the pictures is a waste of film and an environmental disaster. Fortunately I. Wayan Palasara has sent me some images to add to this page, so now we have both artists represented:
---
I. Wayan Teguh Wijaya
This is the one photo that came out. It's a fantastic piece by I. Wayan Teguh Wijaya, who is a fine arts student at the university. I call this piece "pig pile", which sounds derogitory, but it's not. I don't know the real name. But Wayan's english isn't very good, so I don't think he'll notice. If he does, I hope he corrects me.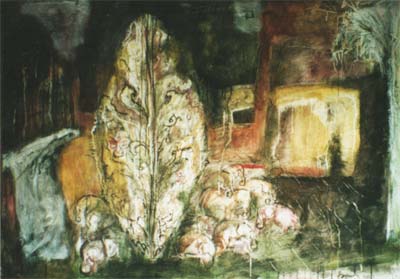 This piece is one of my favorites, so it's good that it is the one that came out. It's dark, it's interesting, it's beautiful and a little funny.
Here's another piece from the Falling Star show: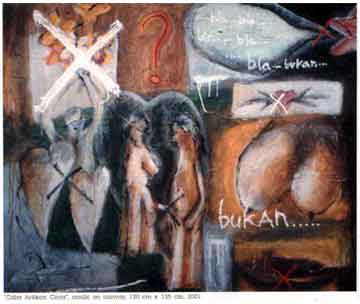 "Coba Artikan Cinta", acrylic on canvas, 120cm x 135cm. 2001
---
First, check out his work, and then, read his biography. I wish I had a biography like this for every artist.
This first piece is called "Menunggu Desember" and it has an interesting story.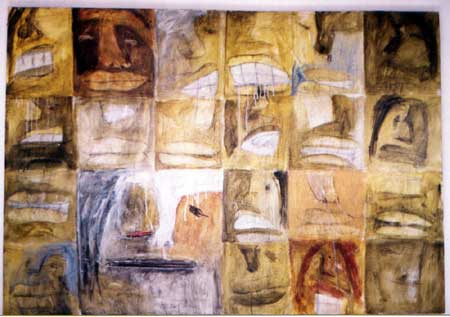 This is a self portrait of the moods and feelings of the artist while he was away from his lover. It is a calendar of emotions.
This piece is called "Sembarangan Nuduh" (Accused at Random)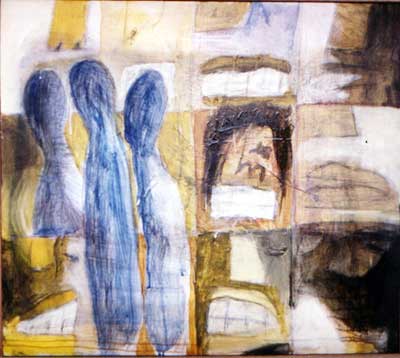 As you can see, Wayan's work is extremely passionate, yet the use of warm, earthy yellows and the careful use of cool blues, calms the message and allows the viewer to study the subject matter without being too affected by emotion to see the power of the content.
Artist's Message:
Born and raised in Peliatan Ubud, a small vilage full of art activities such as balinese dancing and music, carving, sculptoring and of couse painting taught me a lot about art work. When i was a kid my father taught me sculpturing and carving but i like drawing better. I learned about drawing in the school until i graduated high school in 1992, but when i had to choise the university, i decided to study english, rather than art. Soon, i got bored going to the campus and painting at home was becoming more, and more fun, and exiting and compelling. Anyway i still went to the campus sometimes just to finish it and i graduated in 1997. Then more seriusly painting until now.
I Wayan Palasara
born: Ubud, May 11th 1974
address: ndAg Art studio Br. Kalah Peliatan Ubud 80571 Bali
phone: 62 361 975799 handphone 08123913132

Exhibition Experience

2000 100 artists for 2000 Westbeth Gallery, Nagoya Japan
2001 "Falling Star" Exhibit, ndAg studio's, Ubud, Bali
Current concept: I try to find peace of my heart in paiting, because there are so many social distortion makes me nervous. And what i try to do now is not a solution but i hope it mean something.