Artists
I. Wayan Palasara
· acrylic on canvas
· expressionist
· abstract
I. Wayan Teguh Wijaya
· acrylic on canvas
· expressionist
· abstract

welcome to ndAg studio
located in beautiful ubud, bali, indonesia, this charming gallery offers a glimps of the creative spirit of bali's young, emerging artists.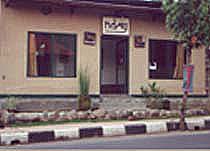 ndAg is a balinese word means shine (just for the sun and the moon). It was just a place where we could paint, hang out with other artists, and the most important was a place where we could put our art work. First, we didnšt have any concept at all. the only thing we hope that the studio focussed in contemporary art as what we did. Here, we met eachother, discuss our activities, creativities, experiment, painting techniques, working concepts and averything about art. After run about a year, the studio has become a place where we or others can also make exhibitions.
Please also check out our link on artvansf.com
click here